Take the stress out of
renovating

or

building
The Process
Kim sharing his thoughts on the process to create a new space.
Being one of Australia's premier designers, Kim Duffin, continues to demonstrate his distinct ability to create aspirational yet functional kitchens, bathrooms and other living spaces.
Designing a kitchen, bathroom or other living space that is unique to you is a special experience and the ultimate way to enjoy your surroundings.
At Kim Duffin Design we pride ourselves on providing not only innovative and unique spaces but also an experience that will have you enjoying the process of creating something new.
Your new space (or spaces for those very lucky clients) will be personally designed by Kim over a series of one on one appointments. During these times, with Kim, the design plus look and feel of your new space will evolve.
The design process can take anywhere from 2 to 4 months, depending on the complexity and size of your project. We will always do our best to meet your timeframes but do suggest, if you have a predetermined completion date, that you contact us at least 5 to 6 months before to ensure there is sufficient time to design, manufacture and complete your new space.
Below is a summary of the process we follow to create your new space:
Initial Consultation – At your home, our studio or your Architect/Building Designers office. This consultation is designed for Kim to get to know you and your space. A consultation fee, starting from $295, is payable at the time of booking your initial consultation. Please be aware that if you cancel your booking less than 5 workings days before, the fee is forfeited.
Concept Design Presentation – The concept is formulated from the brief we took from you at the initial consultation. This meeting is designed to gain your feedback on the direction of the design. Kim may present multiple options for you to consider. Kim will take your feedback from this meeting and refine the design.
Design Development – During these meetings you work with us to refine your design plus complied a colour palette, finish and appliance selection list. You may need 1 to 2 of these meetings with the final one cumulating into the final design presentation. At the end of this process, and upon the payment of 100% of your design fees you will be provided with a full set of undimensioned elevations, floor plan and 3D renders of your new space. Click here to see an example of the plans and drawings we provide our design clients.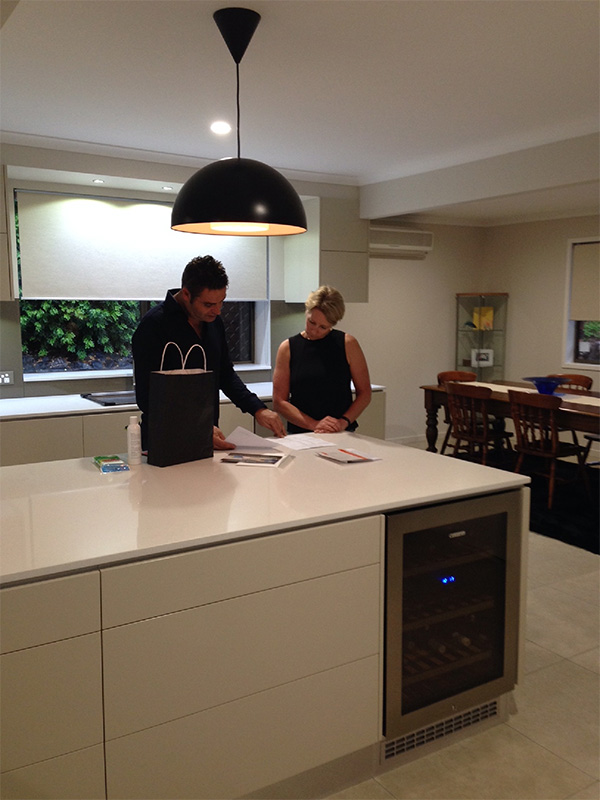 Quoting/Planning – Once the design is finalised, we will move to seeking fixed price quotes from those trades and supplies required to complete your project. Once these have been sourced, we will complete a fixed price quotation for you to review. We will also discuss the timing of the project to ensure the implementation is as unobtrusive as possible.
Implementation – Once all contractual documents are executed, we will start the process of creating/ordering the components for your new space.
Installation – At this stage, Kim becomes your Project Manager. This is where his 25 years of experience comes in handy. He and his team take the stress out of creating a new space or renovating your home. Ensuring time lines are meet and quality benchmarks are exceeded is what makes the difference between choosing Kim Duffin Design and another firm to see your project to completion.